The Hackbus trip to Defcon ??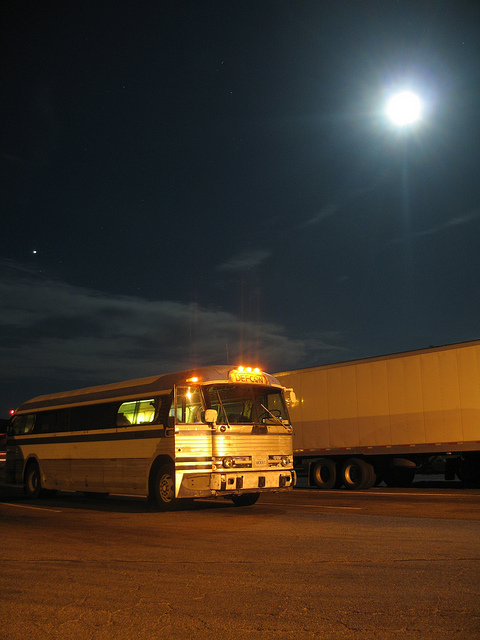 Pictures appear on Flickr: here, here, and under the tag hackbus here




Bought in 2007, by EvilMoFo and Fpenguin, the HackBus is a 1956 GM bus that has been converted to a living room on wheels. According to previous riders, it is one of the most entertaining ways to go to Defcon. If you are interested in the project, follow us on Twitter, like us on Facebook, and/or visit the HackBus Blog. We also have a +HackBus page but G+ should be avoided at all costs.

The HackBus leaves the San Francisco bay area on the Wednesday before Defcon and arives in Las Vegas that night. During Defcon, the HackBus will travel to the Toxic BBQ and back on Thursday night. The HackBus leaves Las Vegas during the day on Monday, after Defcon, to return to the bay area that night. The schedule allows people to attend work on Tuesday morning, we wish you the best of luck if you go to work on Tuesday.

For those not coming along for the ride, you can follow our progress streaming live to the internet. Links/embedded objects will appear on this page during the trip.



Trip Details
Price
Pre-pay by ??/??/????: ??? round-trip, ?? one-way
Pre-pay by ??/??/????: ??? round-trip, ?? one-way
Pay onboard: ??? round-trip, ??? one-way

Going to Las Vegas: Wednesday, ???, ????
Departing the Bay Area: ~1100
Santa Nella, California ~1300
Lost Hills, California ~1500
Tehachapi, California ~1700
Baker, California ~1900
Primm, Nevada ~2100
Arriving Las Vegas: ~2200

Coming back from Las Vegas: Monday, ???, ????
Departing Las Vegas: ~1200
Primm, Nevada ~1300
Baker, California ~1500
Tehachapi, California ~1700
Lost Hills, California ~1900
Santa Nella, California ~2100
Arriving the bay area: ~2300

Contact
Twitter: @hackbus
Facebook: HackBus
E-Mail: evilmofo @ google mail
IRC: EvilMoFo @ EFnet, idling in #sf2600
Phone: (724) 638-7467